Are you wondering how to know those who have refused to accept a friend's red-handed request? This post will list all friends who have declined your Facebook request.
How to find out who hasn't accepted your previous Facebook friend request.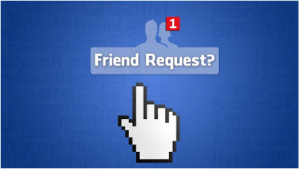 How to Check Sent Friend Requests on Facebook – My list of sent friend requests
---
STEPS:
To begin, sign in to your Facebook account.
On the top right corner, click the friend request icon.
A popup menu will appear after you click the friend request button.
Now, at the bottom of the popup menu, click on see all.
You will now be redirected to a screen that displays a list of all received requests.
At times, you'll send a friend request to a friend or to random people who interest you.
However, they ignore your friend request, and as time passes and your schedule becomes more hectic, you quickly forget about the request you sent to them.
And believe me, everyone goes through a phase on Facebook where they wish to know how many requests they have sent to all people and who has ignored their request.
If you are currently in that phase, or even if you are not, I'm sure you'll soon find yourself in the same boat, wondering how you might know the list of people who have ignored your Facebook friend request.
It's now quite simple to locate the list of friend requests you've made thus far and to cancel them all at once.
---
How to Check sent friend request on Facebook App
You can also check the same thing on the Facebook App.
STEPS:
Tap the requests icon in the bottom left corner of the screen after logging into your profile.
To view all items, scroll to the bottom of the list and tap.
When you tap or click this, you'll be taken to a friend request screen where you can view all of the requests you've received.
Tap on the outgoing icon on the right-hand side of these icons.
You will now see a list of all the requests you have submitted.
How can I unfriend or delete a Facebook friend?
At the upper left corner of Facebook, select search.
Type that Facebook user's name into the upper search field to proceed to their profile.
Select Friends.
Select Unfriend, afterwards select Confirm.
If you are unable to access the person you wish to unfriend, their account might be disabled.
To unfriend someone whose Facebook account has been disabled, follow these steps:
At the upper right side of Facebook, tap your profile photo.
To access all of your friends, scroll down to the friends area and hit See All Friends.
To unfriend someone, hit "more" next to their name.
Select Unfriend [name].
Users you unfriended will not receive a notification. You can prevent someone from seeing your profile, adding you as a friend, or sending you a message.
If you unfriend anybody, you'll be removed from their friends list as well. You'll have to send this person a friend request again if you want to be friends with them again.
We appreciate you taking the time to read this post, "Friend Request Sent List By Me," and encourage you to share it if you enjoyed it.